Wedding Flowers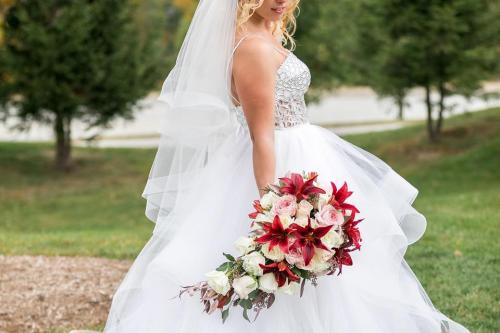 Olsen Wedding, Ludlow. Florist: Blossoms 'n More, Venue: Jackson Gore, Photographer:
Make Blossoms N More your first choice for premium fresh flowers and upscale design artistry for your dream wedding and all your special occasions!
We take special care to ensure the bouquets and on-site floral décor reflect your individual style and budget…whether you prefer timeless tradition or a sleek contemporary look. If you decide to choose a theme when planning your wedding or party, some of these may include:
Country Chic / Shabby chic
Rustic Country
Lakeside
Barn wedding
Mountain Top
Island Paradise
Holiday Winter Wonderland
Military Wedding
and other fun and unique ideas.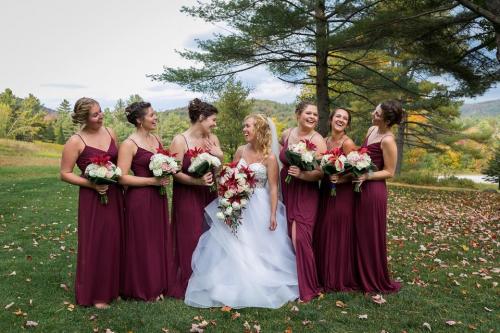 Each wedding we do is custom-designed with you in mind!
At Blossoms N More, we go the extra mile to ensure your flowers are more than a memory. Our wedding consultants can offer lots of beautiful style suggestions in an effort to create the overall look you hope to achieve.
Ask about wedding floral packages that may include:
the bridal bouquet ~ attendants' bouquets ~ corsages & boutonnieres ~ ceremony arrangements ~ candelabra flowers ~ pew markers ~ floral & foliage garlands ~ table centerpieces ~ flowers for cake tables ~ topiaries ~ arches & entryways, etc.
Pick a bouquet that's just right for you!
With our talent, training and experience, we will bring your special day to life... with classic traditional bouquets, or more modern cutting-edge styles in bridal and wedding flowers.
We can create a personalized look by adding embellishments to your bouquet and bouquet handle with sparkling touches or accents like heirloom jewelry, brooches, pearls, berries, butterflies, decorative colored wire, rhinestones, ribbon, burlap, lace, tulle, peacock feathers and almost anything else.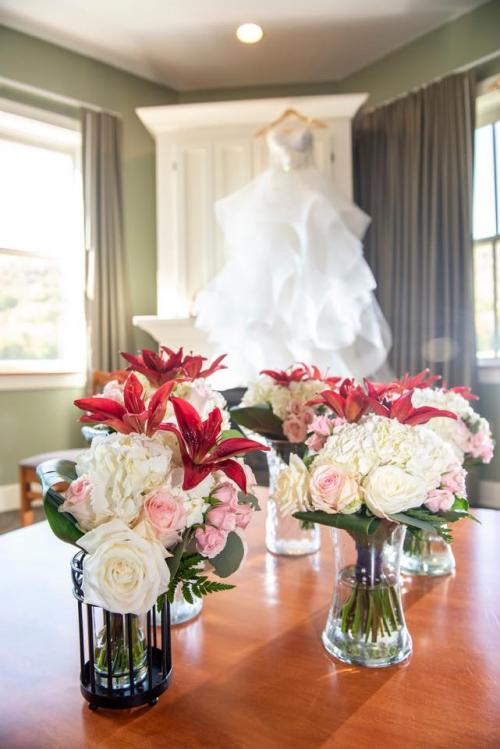 We would love to make all your special days, extra special!
For your convenience, our shop offers the following special event services:
Wedding and Party Consultations
Wedding & Party Rentals
Wedding flowers are much more than just an accessory to your big day.
Wedding flowers are something you will remember for a lifetime. These are the flowers that will always trigger special memories of the day you shared, so it's important to pick something perfectly you. Just as important is choosing the right florist and Blossoms N More is ready to help you! Call us in advance at (802) 855-8155 to schedule a consultation. We'd love to help you start planning your dream wedding or your next successful event. You can also send us an email.
We want to provide you with arrangements that are as beautiful and unforgettable as your wedding day memories will be.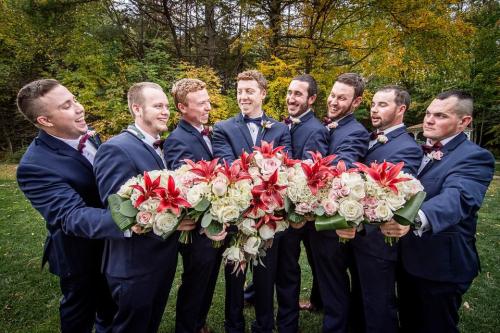 Bridal Time Line/Expectations
Inquiry – When you inquire with us, you are basically saying. "Hey, we'd love to learn more!"
We reach out - We will reach out to introduce ourselves and see if we would make a good fit.
Consultation – Then we hold a design consultation where we talk about what types of flowers, availability, where, big small, all of the fun things. This is our favorite part because we can dream up all of the beauty together!
Estimate – After the consult, we will write up what we discussed and we put the vision on paper with the logistics/ pricing. If you are wanting to book with us, then a non-refundable deposit of $200 is required to SAVE your date.
Proposal – It is getting formal! The proposal will have all the items you would like with photos, prices, and all details of your wedding. At the time of proposal signature we require 25% of the invoice to pe paid.
30 Days before Wedding – We require the full and final payment for your wedding flowers.
Month Before/Week of – Last minute emails and small changes.
Day of! – Blossoms n' more comes to set up your wedding with all of the pretties unless you will be picking up at our shop!
HAPPY WEDDING DAY!